2022 ACIM Daily Workbook Lessons Midway "Live" Webinar
In July, 2021 and 2022 Nouk & Coreen answered questions about the ACIM Daily Workbook Lessons





Wow, we did it!!! We're now half-way through the Workbook Lessons for a second year, can you believe it?! What better way to celebrate than a LIVE joining with Nouk, Coreen. and Daniel. Bring your questions and inspirations and let's join with our miraculous ACIM YouTube Family.
We want to see your beautiful faces and express our profound gratitude to all of you.
We welcome your questions, whether they pertain to the ACIM workbook lessons themselves or from something that Nouk or Coreen have shared. Daniel will be there as well. To ensure that we get to everyone's question, we ask that they be submitted in advance by posting them into the comments section of the curriculum in our E-learning platform. However, in order to submit your questions you must make sure that you are officially enrolled. You may enroll by scrolling down to the blue Enrollment Button.
We can't wait to join with you all. And if you cannot attend live, we will definitely record so the replay will be available to everyone.
We are really looking forward to this session. Thank you Family. 
Please watch the REPLAY video by enrolling below.
With deep love and appreciation for YOU, 
Nouk, Coreen and Daniel and the entire Take Me to Truth family. 
Class Fee Policy:
Everything that Take Me to Truth offers is given freely to all. There is a practical need to cover our operating costs and each facilitator is deeply grateful for your symbols of gratitude for their time in assisting in the assimilation of these teachings.  We ask that if you are able, please make a donation commensurate to the blessing you feel you receive from your participation in them.  No one is turned away because of their inability to donate.  
We welcome you to the TMTT family, whether you donate or not.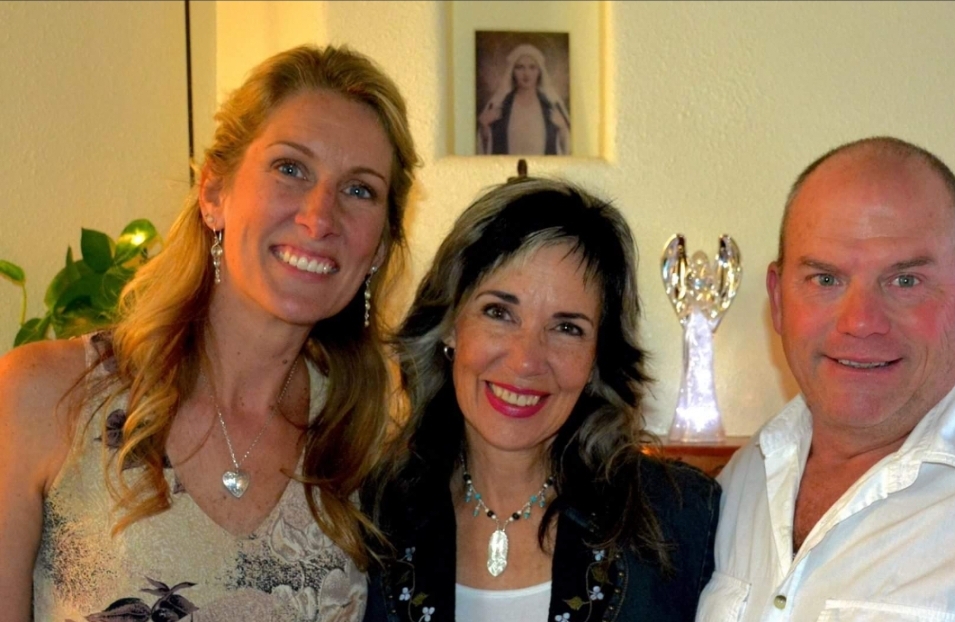 Coreen Walson & Nouk Sanchez
About Nouk:
Nouk began her passionate journey with A Course in Miracles in 1990. She is best known for her very practical approach to undoing the single cause of suffering, - the ego. In 2007 Nouk co-authored Take Me to Truth with Tomas Vieira, which became an instant bestseller.
During her darkest night of the soul in January 2011 which was brought about by Tomas' passing, she experienced a revelation that profoundly shifted her perception. Since then she has received a series of divine transmissions that joyfully reveal Jesus' deeper message in the Course. The End of Death trilogy is the exciting culmination of these insights. The End of Death, Vol. One was released in 2014 and also became a bestseller. The mind-blowing story of Nouk and Tomas' transition from 'special' to Holy Relationship is shared in A Manual for Holy Relationship.
In 2015, after a 25 year gap, Nouk was blessed with a profound reunion with treasured soul buddy, Daniel Boissevain.
About Daniel Boissevian:
Nouk and Daniel have joined in a total commitment to help extend these life-changing teachings to the world. Their journey in advanced Holy Relationship is nothing short of miraculous and soul-stirring, and is also shared in A Manual for Holy Relationship. You might recognize Daniel from the 7 keys YouTube videos from A Course In Miracles - Daily lessons unpacked. He has a series on undoing the ego.
About Coreen:
I was so fortunate to be raised in Christian Science where healing was a normal and natural part of my life. I had many unanswered questions however about this dream experience and how it tied into the Truths I learned growing up. I "stumbled" upon Nouk Sanchez' blog while living in California and felt such a profound knowing and a calling to join her in promoting and delivering the deeper teachings in A Course in Miracles, that I left my job, home and family and moved to New Mexico. I am now in the full time practice of teaching and sharing Jesus' deeper message in ACIM which dovetails so beautifully and seamlessly with Christian Science. Nouk Sanchez and I are wholly committed to sharing His message around Holy Relationship, which is the key to the Divine Love that, when joined with the Absolute Truth, IS the way of literal healing, miracles, and the overcoming of the ego's final obstacle, the belief that death is an inevitable part of "life". I feel so fortunate to have discovered so many like minded miracle buddies along this path and thank God for being used as another transparency for His healing message that Love alone is Life.


Course Details
Available in days

days after you enroll

ACIM Workbook Lessons - Midway Q&A Webinar
Available in days

days after you enroll

2022 ACIM Lessons Midway "Live" Q&A Webinar
Available in days

days after you enroll

2021 ACIM Lessons Midway "Live" Q&A Webinar