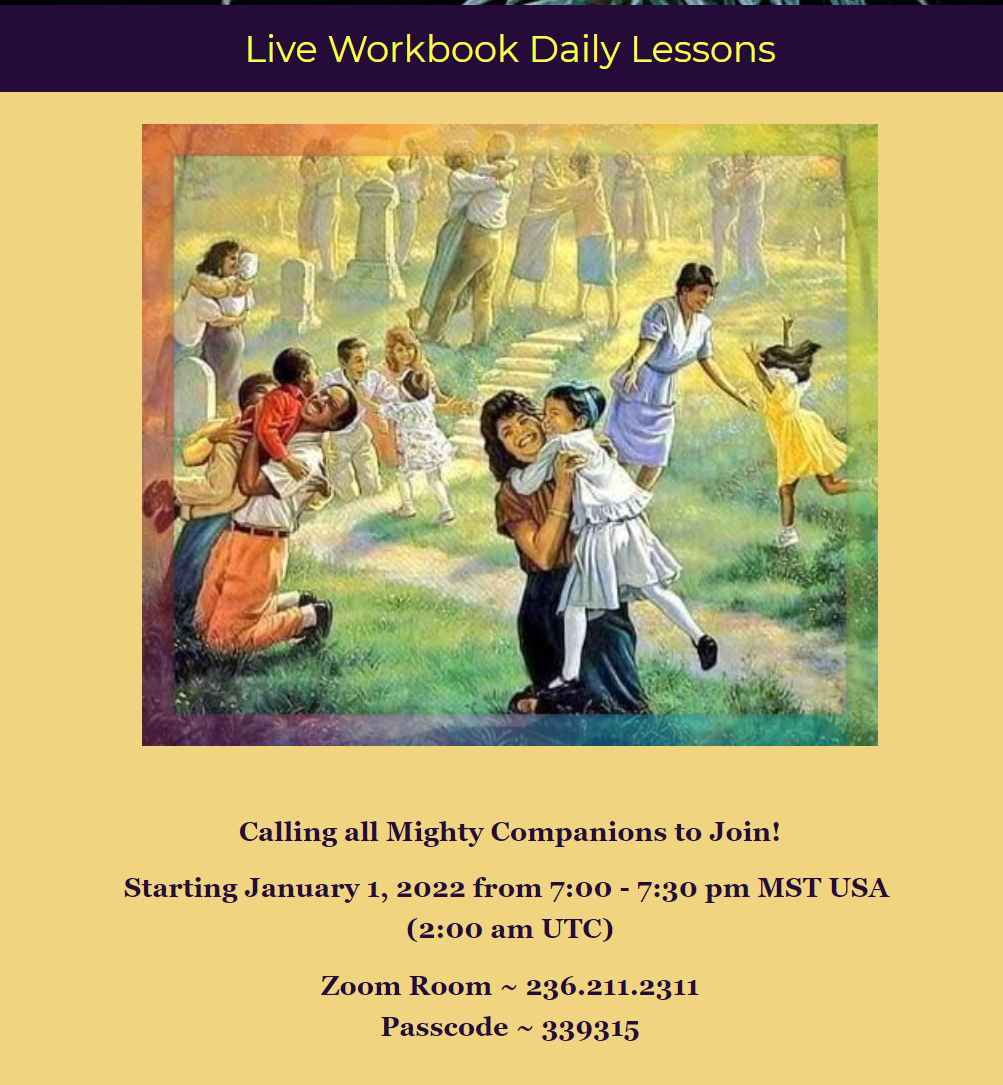 Welcome to the Daily Workbook Lesson Reflections!


We are excited to have you.
You may join the below sessions live in the zoom room and/or you can view the replay videos.
Everyday, 7:00 pm MST USA/Canada
2:00 am next day UTC
12:00 noon next day AEST
Starts January, 2022
Zoom Meeting ID: 2362112311

Course Description
Welcome to the Daily Workbook Lesson Reflections!
Along with the incredibly helpful daily lesson unpacking with Nouk and Coreen on You tube, we highly recommend to give yourself a quiet space to join with the idea for the day in your daily Workbook Lesson. The Workbook Lessons give each of us such an incredible opportunity to get still, to join, and to listen to our Inner Teacher, the Holy Spirit who helps teach us what we need to learn. We will receive direct insights that are meant for each of us to support the mind training that will undo the false self-concepts that are in the way of the Truth, in the way of the Presence of the Christ I Am.
In our daily joining, we invite you to bring what you were taught in the day through your practice. Share your insights, share your breakthroughs, share your miracles. Thank you for your gifts of healing, they are for the One of us!
Come join us live at 7 PM MST when you can!!
With Love, Skye, Benjamin and Nicola
Class Fee Policy:
Everything that Take Me to Truth offers is given freely to all. There is a practical need to cover our operating costs and each facilitator is deeply grateful for your symbols of gratitude for their time in assisting in the assimilation of these teachings.  We ask that if you are able, please make a donation commensurate to the blessing you feel you receive from your participation in them.  No one is turned away because of their inability to donate.  
We welcome you to the TMTT family, whether you donate or not.
Nicola Povey
Welcome, I am so happy you are here. I am so happy I am here. Here you and I get to meet and to join as mighty companions. As there are no accidents, I trust all who come are sent by Spirit for mutual healing in oneness. For me, it has been many years of mind training, forgiveness, stillness, mystical experiences, miracles, synchronicities and following the small still Voice inside - as well as the louder Voice of God, heard in the many symbols of the world, thru animals, images, emails, songs, brothers...All these have served to greatly increase my Trust and bring me to this point. Our joining will provide a place where we can come to share and experience the deeper teachings of Jesus, through Nouk's work. I have facilitated two, year-long Total Transformation Course cycles, collaborated in the creation of the course for the TTC, and am now happy to be offering to facilitate a year-long journey with Nouk's latest book, A Manual for Holy Relationship. Thank you for joining with me, and for the peace and joy that will be felt throughout the Sonship in our shared purpose.
Love, Nicola

Holy Relationship Facilitators Partners
We look forward to joining in Truth with you. Know that we welcome you with the utmost humility and trust. This journey through the Daily Workbook lessons is deep and precious. Our hands are outstretched to yours. In Loving Service to Truth and Innocence. We are your brother and sister in Christ.